KEMAMPUAN PEMAHAMAN MATEMATIS SISWA MENGGUNAKAN MODEL PEMBELAJARAN KOOPERATIF METODE CONCEPT MAPPING
Abstract
The new paradigm of learning has placed the students to participate actively in the learning process. One of the consequence is that the learning process must use the variative methods, not only about the transfer of knowledge from teacher to students. This research is more being focused on the objective of the research in action in the class to improve ability of mathematical understandingof students which performed in implement method by usingConcept Mapping.
This research used classroom action research ini class VII B SMPN 15 Bengkulu city. This research was observation action in the class that done by callaborative between the researcher and teachers. In collecting the data used by some instrument suchs interview, observation sheet of teachers and students, and essay sheet of mathematical reasoning ability.
Based on observation, the result of this research was, in learning by using learning method Concept Mapping was good. Activity of teachers and student show good category. The result of reasoning ability test in cyclewas ability of students show enought category (50% of 22 students) and in the next cycle improve become good category (100% of 22 students).
 
Keywords: Concept Mapping, mathematical understanding
References
Anton Bahaudin, 2011. Upaya meningkatkan pemahaman matematik Siswa Melalui Metode Student Facilitator and Explaining. Diambil pada tanggal 12-februari-2014 dari :
http://antonbahaudin.wordpress.com/2011/01/27/upaya-meningkatkan pemahaman-matematik-siswa-melalui-metode-student-facilitator-and explaining/.
Buzzan. 2010. Buku Pintar Mind Map. Jakarta: Gramedia.
Herdian. 2010. Kemampuan Pemahaman Matematika. Diambil pada tanggal 2 Februari 2014 dari :
http://herdy07.wordpress.com/2010/05/27/kemampuan-pemahaman-matematis/
Isjoni. 2007. Cooperative Learning. Bandung: Alfabeta.
Suharsimi Arikunto, dkk. 2009. Penelitian Tindakan Kelas. Jakarta: Bumi Aksara
Trianto. 2011. Mendesain Model Pembelajaran Inovatif-Progresif.Jakarta: Kencana Media Group.
Wina Sanjaya. 2012. Strategi Pembelajaran Berorientasi Standar Proses Pendidikan. Jakarta: Kencana Prenada Media Group.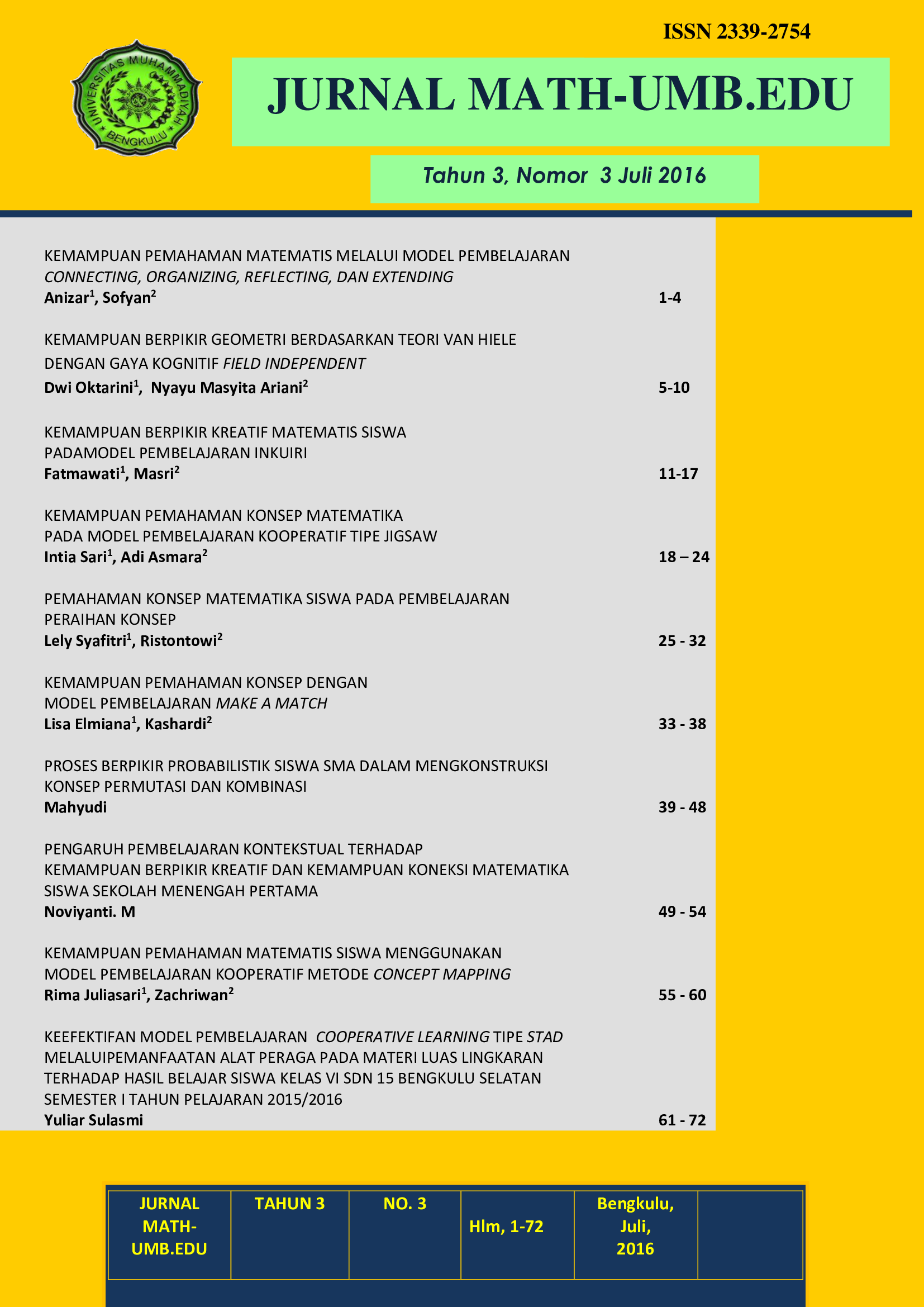 Downloads
Abstract viewed = 87 times