KEMAMPUAN BERPIKIR KREATIF MATEMATIS SISWA PADA MODEL PEMBELAJARAN INKUIRI
Abstract
Mathematical creative thinking ability is the ability of students in generating new ideas to solve mathematical problems. To develop mathematical creative thinking abilities of students, teachers must have and implement a learning model that fits in the learning process. Learning model that can be used to measure students' ability to think creatively mathematical namely the model of inquiry learning and teaching model . This study aims to determine whether the inquiry learning model in individually and together better than conventional. This research is a quasi experimental research with the population of students class X SMAN 01 Mukomuko The sample in this study is student class X 3 and class X 1 as a class experiment and X 2 as a class control. This study was conducted in April-May 2015. Data was collected using a mathematical creative thinking ability test. Data were analyzed using statistical tests Anova test of the lanes and the Advanced Test (BNT). Based on calculations obtained Anava no difference mathematically creative thinking abilities of students in class experimen I, experiment II, and class control. Based on the test of Least Significant Difference (LSD) showed that three treatments give different results. Based average value the final test learning  and conventional learning in develop student to think creatively mathematical good to teacher or a student.
 
Keywords : Creative Thinking Mathematically, Inquiry
References
Komalasari B. 2009. Perbedaan Kemampuan Berpikir Kreatif MatematisSiswa antara Yang Diajar Mengunakan Model Pembelajaran Berbasis MasalahDengan Model PembelajaranTreffinger Di Kelas VIII SMPN 05 Pendopo.Skripsi Pendidikan Matematika UMB. Tidak Diterbitkan.
Risnanosanti. 2009. Penggunaan Pembelajaran Inkuiri Dalam MengembangkanKemampuan Berpikir Kreatif Siswa SMA di Kota Bengkulu. Program Studi Pendidikan Matematika Universitas Muhammadiyah Bengkulu. (diambil 4 maret 2015). Diunduh dari http://seminar.uny.ac.id/ semnasmatematika/risnanosanti
Siswono.2008. Model Pembelajaran Matematika Berbasis Pengajuan dan Pemecahan Masalah Untuk Meningkatkan KemampuanBerpikir Kreatif. Surabaya: Unesa University Press
Sugiyono. 2013. Metode Penelitian Kuantitatif, Kualitatif dan R & D. Bandung: Alfabeta
Trianto.2007. Model-model Pembelajaran Inovatif Berorientasi Kontruktivisme. Jakarta : Prestasi Pustaka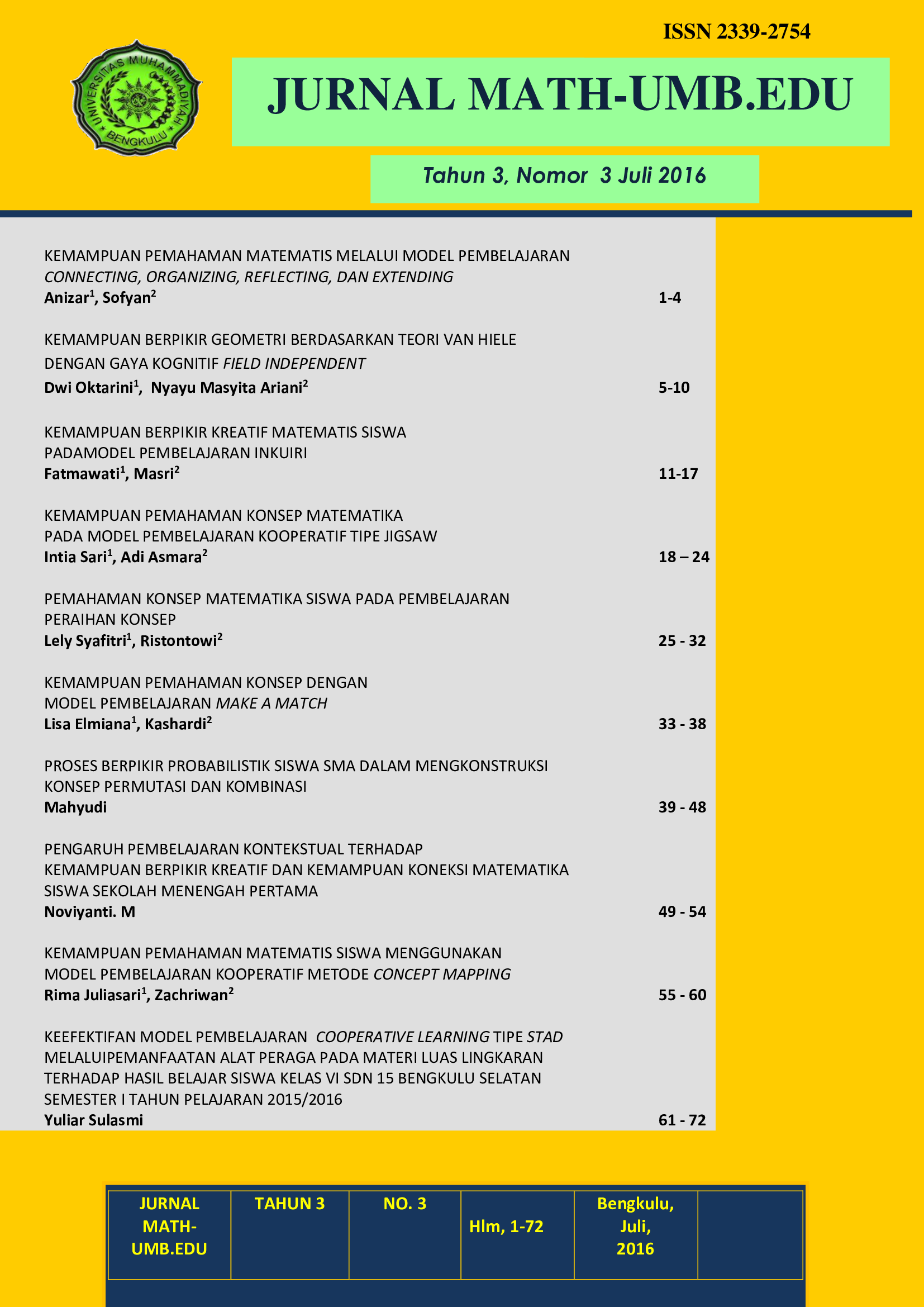 Downloads
Abstract viewed = 88 times