KEMAMPUAN BERPIKIR GEOMETRI BERDASARKAN TEORI VAN HIELE DENGAN GAYA KOGNITIF FIELD INDEPENDENT
Abstract
This research aims to describe the geometric thingking ability of students in the quadrilateral and triangular material based on the Van Hiele theory to grade VII B SMPN 9 Kota Bengkulu who have field independent (FI) cognitive style. The type of this research is qualitative descriptive. The Data were obtained from Van Hiele geometry test results and interviews. Ones were analyzed by using qualitative data analysis techniques. The results showed that FI's students able to analyze problems of geometry well and in responding to such questions based on the requirements from the inside. So the ability of the highest FI's students can be achieved to ability level from level 2 to the level 3 (Pre deduction).
Keywords : Geometry Thinking, Van Hiele Theory, Field Independent (FI)
References
Ngilawajan, D.A. (2013). Proses Berpikir Siswa SMA dalam Memecahkan Masalah Matematika pada Materi Turunan Ditinjau dari Gaya Kognitif Field Dependent dan Field Independent. Pedagogia, Vol.2, No.1: halaman 71-83.
Slameto. (2010). Belajar dan Faktor-faktor yang Mempengaruhinya, Jakarta: Rineka Cipta.
Usiskin, Z. (1982). Van Hiele Levels and Achievement in Secondary School Gometry. (Final Report of the Cognitive Development and Achievement in Secondary School Geometry Project). University of Chicago, Department of Education. (ERIC Document Reproduction Service No. ED 220 288).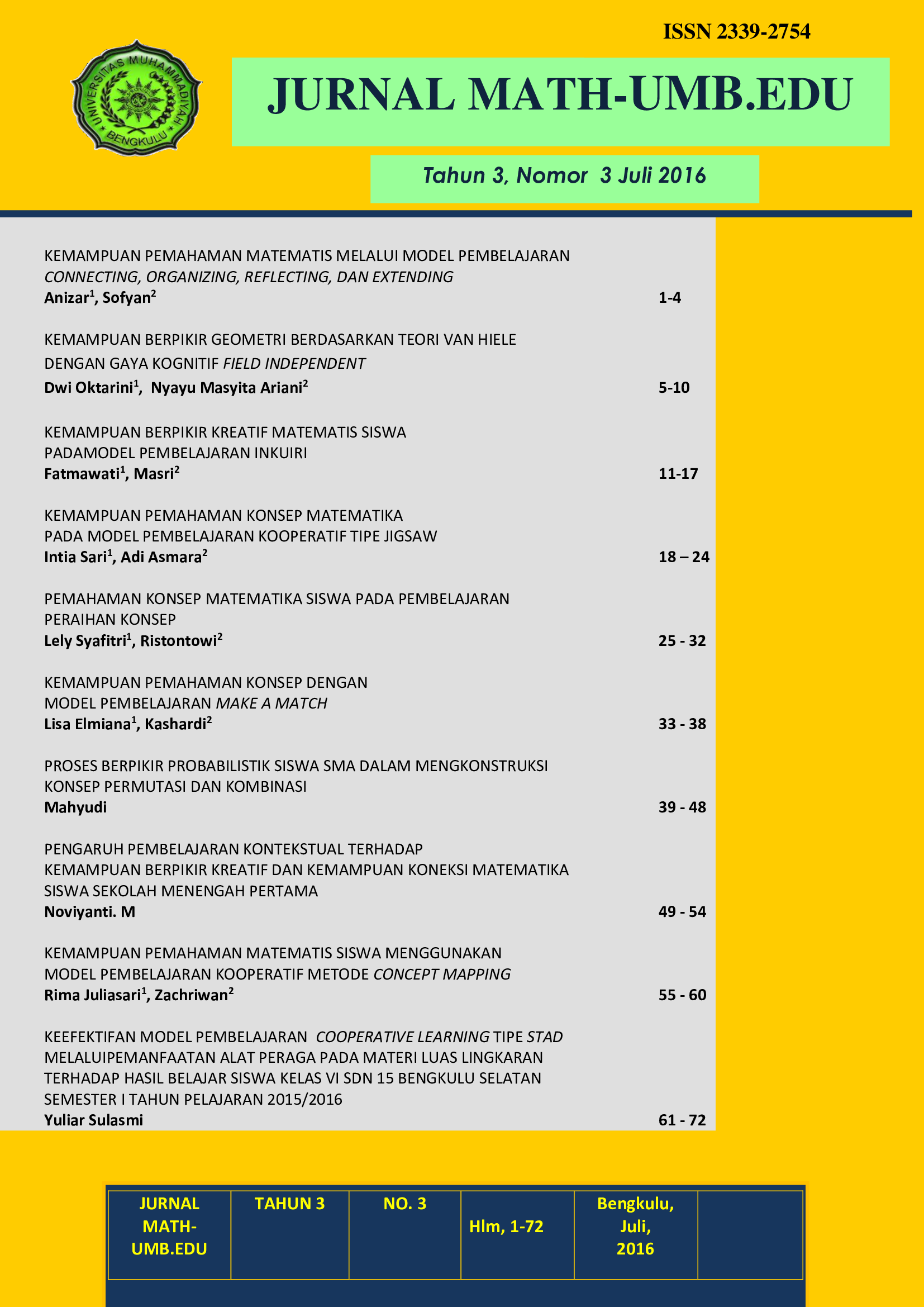 Downloads
Abstract viewed = 60 times