STRATEGI DESAIN PRODUK DAN KUALITAS PRODUK TERHADAP MINAT BELI KONSUMEN PADA TOKO MEBEL SEDERHANA
Abstract
Product quality and design are two strategies used to win the competition, particularly in the furniture industry. An industry (furniture) is an industry that processes raw materials or semi-finished materials, rattan, and other natural materials into finished goods that can be called furniture, which has high added value and benefits. The method of data collection involves using interviews and observations on simple furniture. The strategic planning method uses the SWOT method to determine the strengths, weaknesses, opportunities, and threats in the furniture business. This analysis involves determining the specific goals of the furniture business and identifying the supporting and non-supporting internal and external factors to achieve that goal. In terms of strength and opportunities, it is clear that the furniture business can still thrive with the amount of cleared land to be used as housing. In terms of weaknesses (weaknesses) and threats (threats), i.e., the number of businesses engaged in the same field and the increasing difficulties of accessing raw materials, The results of the analysis and evaluation in this study found that product quality and design had a positive effect on Simple Furniture's ability to establish and maintain cooperation with loyal consumers.
References
Arda, M., & Pulungan, D. R. (2019). Analisis Pengaruh Faktor Kesuksesan Pengadopsian E-Commerce Pada Usaha Kecil Menengah di Kota Medan. Liabilities Jurnal Pendidikan Akuntansi, 2(2), 100-108.
Arianty, N. (2013). Pengaruh Promosi terhadap Keputusan Pelanggan menggunakan Kartu Mentari pada PT Indosat Tbk. Medan. Jurnal Ilmu Ekonomi dan Studi Pembangunan, 13(1), 101-115.
Arianty, N. (2016). Pengaruh Promosi dan Merek terhadap Keputusan Pembelian . In Prosiding dies natalis fakultas ekonomi dan Bisnis Universitas Sumatera Utara, (Vol 4, Issue 2, pp. 76-87).
Daulay, R., & Manaf, A. (2017). Strategi & Workshop Kewiraushaan (1st ed). Lembaga Penelitian dan Penulisan Ilmiah Aqli.
Finthariasari, M. (2020). PENGARUH KUALITAS PRODUK, DISPLAY LAYOUT DAN VARIASI PRODUK TERHADAP KEPUASAN KONSUMEN. EKOMBIS REVIEW: Jurnal Ilmiah Ekonomi Dan Bisnis, 8(2). doi:https://doi.org/10.37676/ekombis.v8i2
Freddy, R. (2012). Analiss SWOT: Teknik membedah Kasus Bisnis-Reorentasi Konsep Perencanaan Strategi . 21 h 3-4.
Haris, D. (2018). Kualitas dan Desain Produk Dalam Meningkatkan Kepuasan dan Loylitas Konsumen (Studi Kasus Baju Dagadu Yogyakarta). Upajiwa Dewantra, 125-139.
Irvanto, O., & Sujana. (2020). Pengaruh Desain Produk, Pengetahuan Produk dan Kesadaran Merek terhadap Minat Beli Produk Eiger. Jurnal Ilmiah Manajemen Kesatuan, 105-126.
Kotler, P., & Keller. (2010). Manajemen Pemasaran. PT Prehallindo Jakarta.
Lesatri, N., & Ekowati, S. (2020). Pengaruh Citra Merek Desain Produk dan Harga Terhadap Keputusan Pembelian Sepeda Motor Honda Beat. Jurnal Manajemen Modal Insani dan Bisnis, 137-145.
Onsardi, O., Finthariasari, M., & Hermawan, D. J. (2021) The Influence of Human Resource Management Practices on Employee Outcomes in Private and Public Banking in Indonesia. Geographical Education (RIGEO), 11(9), 1-8.
Rahayu, S. (2017). Pengaruh Promosi Jabatan Terhadap Kinerja Karyawan pada PT. Garuda Metalindo. Jurnal KREATIF : Pemasaran Sumber Daya Manusia dan Keuangan, 5(1), 59-75.
Sanjaya, S. (2015). Pengaruh Promosi dan Merek Terhadap keputusan Pembelian Pada PT. Sinar Sosro Medan. . Jurnal Ilmiah Manajemen dan Bisnis, 6.
Sapitri, L., & Onsardi, O. (2021). The Effect of Brand Image and Product Quality toward Wardah Cosmetics Consumers' Loyalty as A Study on Students Management Study Program, Faculty of Econom ics and Business, Muhammadiyah University of Bengkulu. Jurnal Ekonomi, Manajemen, Bisnis dan Akuntansi Review, 1(2), 139-146.
Sonatasia, D., & Arini, E. (2020). Strategi Meningkatkan Loyalitas Konsumen Makanan Khas Kota Curup Kabupaten Rejang Lebong. (Jmmib) Jurnal Manajemen Modal Insani Dan Bisnis, 1(1).
Sumarni, M., & John, S. (2010). Pengantar Bisnis (Dasar-dasar Ekonomi Perusahaan). Liberty Yogyakarta, Edisi ke-5.
Wulandari, K., Finthariasari, M., & Yulinda, A. T. (2021). Impact Of Service Marketing On Student Decisions. JBMP (Jurnal Bisnis, Manajemen dan Perbankan), 7(2), 234-254.
Yoepitasari, A., & Khasanah, I. (2018). Analisis Pengruh Kualitas Produk Promosi dan Desain Produk Terhadap Keputusan Pembelian Dengan Citra Merek Sebagai Variabel Intervening(Studi Pada Konsumen Sepeda Motor Matic Merek Yamaha Mio di Kota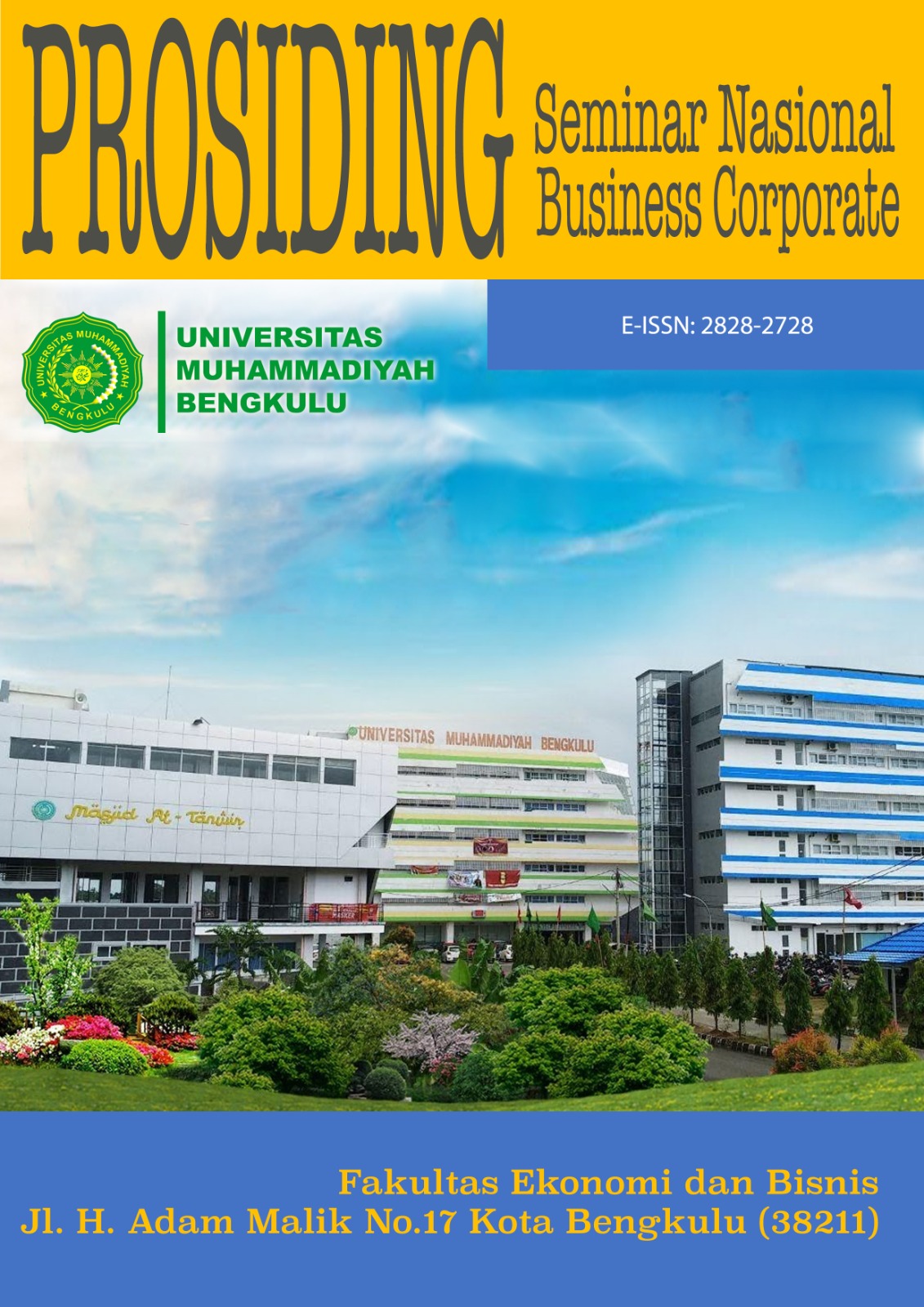 Downloads
Published
2022-04-14 — Updated on 2022-04-14

Abstract viewed = 225 times