ANALISIS MANAJEMEN KEUANGAN & MANAJEMEN PEMASARAN PT. AIR MURING KECAMATAN PUTRI HIJAU KABUPATEN BENGKULU UTARA
Abstract
This research aims to find out and analyze the governance of financial management &marketing management on Rubber Ribbed Smoke Sheet (Rss) products pt. Water Muring District Putri Hijau North Bengkulu Regency. The data used in the research in the form of primary data obtained from interviews and observations to verification dept head pt. Muring Water District Of Putri Hijau North Bengkulu Regency.
PT Air Muring is one example of a corporate company listed in the directory of industrial companies under the Ministry of Industry as a company whose business commodity is Ribbed Smoke Sheet (RSS), which produces processed natural rubber products in the form of sheets that are popularly used as the main raw materials of various rubber industries. Based on the results of observations, interviews and analysis of documents related to the company's working mechanisms, shows that the governance of financial management & marketing of Rubber Products of PT Air Muring has been running in accordance with ideal business activities, namely the application of companies to sell to where the corporation has quality products both in the national and international sphere and Better place to work, namely the corporation acts as a good place to work and  getting a decent income is good for the company's top brass, especially for severe laborers. PT Air Muring has carried out both aspects.
Keyword : financial management & marketing management
References
Aryandi, J., (2020). Pengaruh Kualitas Pelayanan Dan Lokasi Terhadap Keputusan Pembelian Konsumen Pada Cafe Wareg Bengkulu. Jurnal Manajemen Modal Insani Dan Bisnis (Jmmib), 1(1), 117-127.
Brigham, Eugene F dan Houston, Joel F. 2010. Dasar Managemen Keuangan. Edisi II Buku 1. Jakarta. Penerbit: Salemba Empat. (terjemah).
Darmiinto, Dwi Prastowo dan Rifka Julianty. 2002, Analisis Laporan Keuangan : Konsep dan Manfaat. Yogayakarta : AMP-YKPN
Dhaarmesta dan Irawan, 2005, Manaajemen Pemasaran Modern, Edisi Kedua, Yogyakarta : Liberty
Faandy Tjiptono. 1999. Strategi Pemasaran. Andi Offset. Yogyakarta
Faisal, A., Samben, R., & Pattisahusiwa, S. (2018). Analisis kinerja keuangan. KINERJA, 14(1), 6-15.
Halim, I. (2021). Analisis laporan keuangan.
Khanza, M., Toyib, R. T., (2021). Implmentasi Algoritma Apriori Untuk Meningkatkan Penjualan Handphone di Toko Mardha Cell. JSAI (Journal Scientific and Applied Informatics), 4(2), 221-235.
Koewn, Arthur J.dkk. 2010. Manajemen Keuangan. Edisi 10 Jilid 1. Indonesia: Indeks.
Maith, H. A. (2013). Analisis Laporan Keuangan dalam Mengukur Kinerja Keuangan pada PT. Hanjaya Mandala Sampoerna Tbk. Jurnal EMBA: Jurnal Riset Ekonomi, Manajemen, Bisnis dan Akuntansi, 1(3).
Munandar, J. A., (2021). Faktor-Faktor Yang Mempengaruhi Minat Nasabah Menabung Di Bank Sumsel Babel Kcp Tanjung Sakti. (Jems) Jurnal Entrepreneur Dan Manajemen Sains, 2(1), 43-52.
Noor, S. (2014). Penerapan analisis SWOT dalam menentukan strategi pemasaran Daihatsu Luxio di Malang. Jurnal intEkna, 14(2), 102-209.
Onsardi, O., Marini, M., & Selvia, E. (2020). Akuntabilitas Pengelolaan Dana Desa Dalam Perspektif Islam (Studi Kasus Di Desa Taba Padang Rejang Kecamatan Huku Palik Kabupaten Bengkulu Utara). Bilancia: Jurnal Ilmiah Akuntansi, 4(3), 248-261.
Onsardi, O., Wulandari, K., Finthariasari, M., & Yulinda, A. T. (2021). Impact Of Service Marketing On Student Decisions. JBMP (Jurnal Bisnis, Manajemen dan Perbankan), 7(2), 234-254.
Pongoh, M. (2013). Analisis Laporan Keuangan untuk Menilai Kinerja Keuangan PT. Bumi Resources Tbk. Jurnal EMBA: Jurnal Riset Ekonomi, Manajemen, Bisnis dan Akuntansi, 1(3).
Sapitri, L., (2021). The Effect of Brand Image and Product Quality toward Wardah Cosmetics Consumers' Loyalty as A Study on Students Management Study Program, Faculty of Econom ics and Business, Muhammadiyah University of Bengkulu. Jurnal Ekonomi, Manajemen, Bisnis dan Akuntansi Review, 1(2), 139-146.
Setia Mulyawan, S. (2015). Manajemen Keuangan.
Sonatasia, D., Arini, E. (2020). Strategi Meningkatkan Loyalitas Konsumen Makanan Khas Kota Curup Kabupaten Rejang Lebong. (Jmmib) Jurnal Manajemen Modal Insani Dan Bisnis, 1(1).
Toyib, R., Muntahanah, M. (2020). Promosi Produk Pertanian Dan Kerajinan Menggunakan Website Serta Pembukuan Sederhana di Desa Sido Dadi Kecamatan Arma Jaya Kabupaten Bengkulu Utara. Jurnal Pengabdian Masyarakat Bumi Raflesia, 3(1).
Wirapraja, A., Sudarso, A., Mardia, M., Tojiri, M. Y., Simarmata, H. M. P., Sulasih, S., ... & Manullang, S. O. (2021). Manajemen Pemasaran Perusahaan. Yayasan Kita Menulis.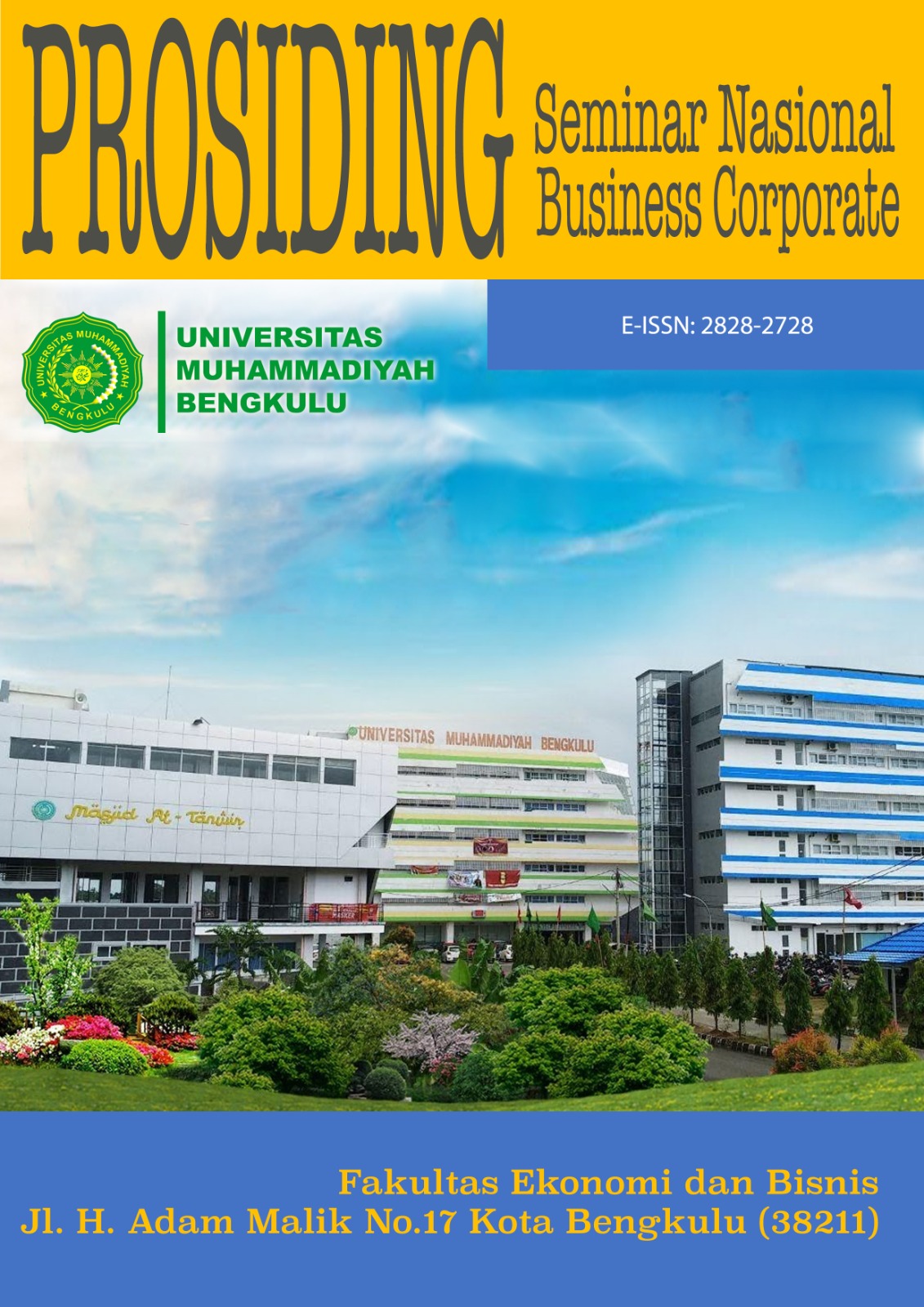 Downloads
Abstract viewed = 544 times