AKTIVITAS MANAJEMEN PEMASARAN DI UMKM KERIPIK PISANG DAN DONAT AISHA
Abstract
Marketing is an important activity carried out by companies to maintain their companies, develop and earn profits or profits. The marketing process begins before the goods are produced. The purpose of this study is to find out how marketing management activities and what strategies are used in UMKM Banana Chips and Aisha Donuts. The method used in this research is descriptive qualitative. This research information can be obtained from interview and observation techniques. The conclusion from the conclusion that marketingmanagement activities in UMKM banana chips and  aisha donuts are stillsaid to benot good because there is still a lack of human resources. And the marketing strategy used is business to business (B2B) to maintain their sales. Suggestions for UMKM for banana chips and aisha donuts are more human resources so that their marketing activities are more controlled.
 
Keywords : marketing management, marketing strategy, B2B
References
Kotler. Philip dan Keler, Kevin Lane. 2009. Manajemen pemasaran. (edisi ketiga belas) jilid 1 Erlangga.
Faisal. 2009. "strategi pemasaran Business To Business pada perusahaan jasa pengiriman paket guna meningkatkan volume pengirimanâ€. Skripsi. Malang : Universitas Islam Negeri.
Maulana Malik Ibrahim. Assauri, Sofjan. 2013. Manajemen pemasaran dasar, konsep, dan strategi. Edisi pertama Jakarta : raja Grafindo Persada.
Munandar, J. A., (2021). Faktor-Faktor Yang Mempengaruhi Minat Nasabah Menabung Di Bank Sumsel Babel Kcp Tanjung Sakti. (Jems) Jurnal Entrepreneur Dan Manajemen Sains, 2(1), 43-52.
Aryandi, J., (2020). Pengaruh Kualitas Pelayanan Dan Lokasi Terhadap Keputusan Pembelian Konsumen Pada Cafe Wareg Bengkulu. Jurnal Manajemen Modal Insani Dan Bisnis (Jmmib), 1(1), 117-127.
Onsardi, O., Wulandari, K., Finthariasari, M., & Yulinda, A. T. (2021). Impact Of Service Marketing On Student Decisions. JBMP (Jurnal Bisnis, Manajemen dan Perbankan), 7(2), 234-254.
Sonatasia, D., Onsardi, O., & Arini, E. (2020). Strategi Meningkatkan Loyalitas Konsumen Makanan Khas Kota Curup Kabupaten Rejang Lebong. (Jmmib) Jurnal Manajemen Modal Insani Dan Bisnis, 1(1).
Toyib, R., Muntahanah, M. (2020). Promosi Produk Pertanian Dan Kerajinan Menggunakan Website Serta Pembukuan Sederhana di Desa Sido Dadi Kecamatan Arma Jaya Kabupaten Bengkulu Utara. Jurnal Pengabdian Masyarakat Bumi Raflesia, 3(1).
Sapitri, L., (2021). The Effect of Brand Image and Product Quality toward Wardah Cosmetics Consumers' Loyalty as A Study on Students Management Study Program, Faculty of Econom ics and Business, Muhammadiyah University of Bengkulu. Jurnal Ekonomi, Manajemen, Bisnis dan Akuntansi Review, 1(2), 139-146.
Khanza, M., Toyib, R. T., (2021). Implmentasi Algoritma Apriori Untuk Meningkatkan Penjualan Handphone di Toko Mardha Cell. JSAI (Journal Scientific and Applied Informatics), 4(2), 221-235.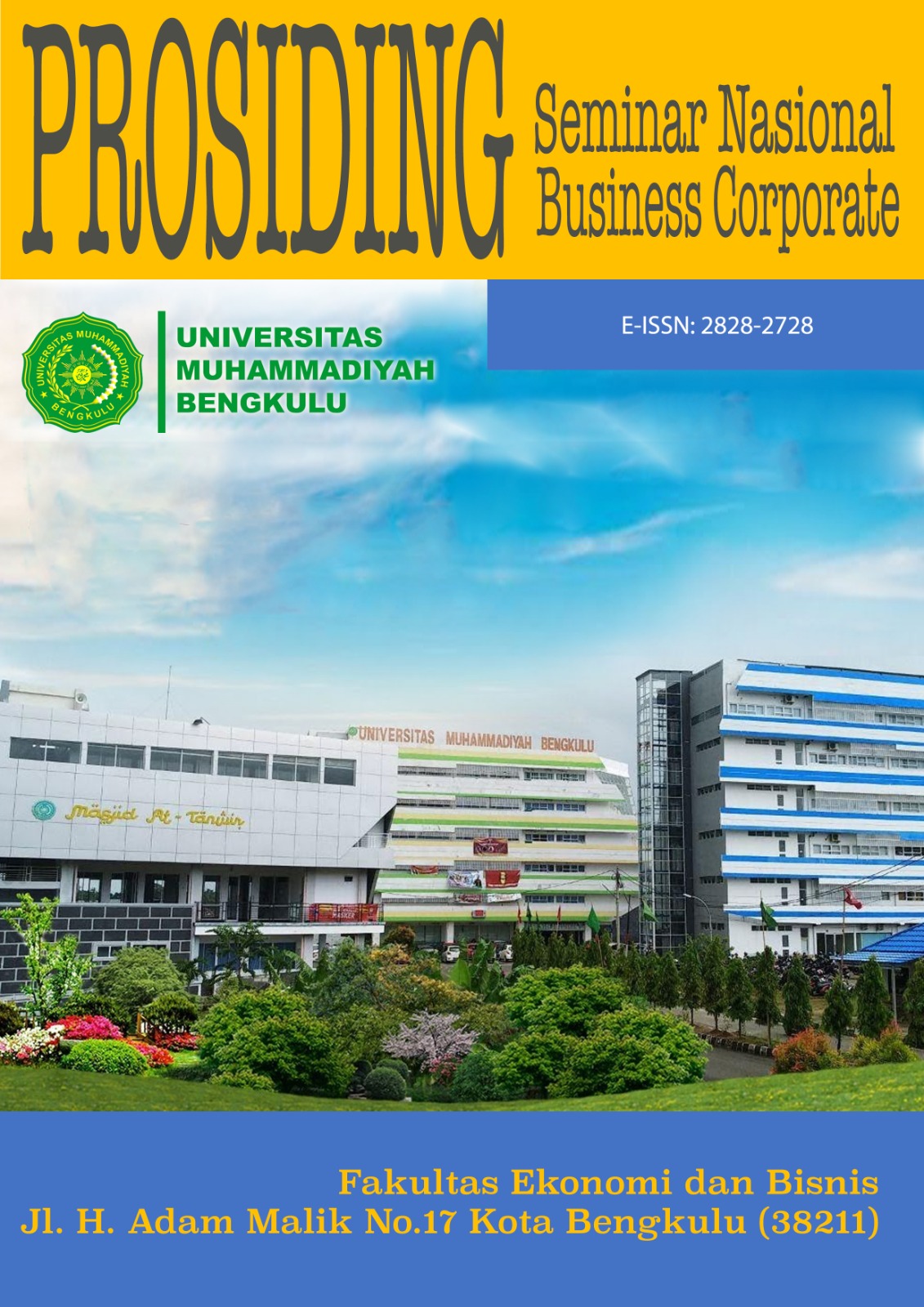 Downloads
Abstract viewed = 67 times