ANALISIS STRATEGI PEMASARAN PADA CAFE DALGONA (SURVEI PADA UMKM CAFE IAIN BENGKULU)
Abstract
Instant or fast-paced lifestyle changes have become a business opportunity for business people in Indonesia. Starting from the need for food, drink, clothing, stationery, and transportation, to the needs that are intended only for self-fulfillment, one of the current trends in Dalgona. Dalgona is a traditional Korean food in the form of candy made from sugar. Dalgona itself was adapted in Indonesia into a drink made from coffee and sugar. Where Cafe Dalgona provides various variants of Dalgona-based drinks, Cafe Dalgona can be used as a current trend that is unified and appropriate in meeting needs and desires. Cafe Dalgona hopes to maintain its market share with this marketing strategy. Competition between owners of the same business poses a threat to the sale of Dalgona. Therefore, by analyzing a good marketing strategy by knowing the strengths (strengths), weaknesses (weaknesses), opportunities (opportunities), and threats (threats), it is hoped that Cafe Dalgona, a micro, small, and medium-sized enterprise, can survive and run its business.

Keywords: Business, Dalgona, UMKM, Strengths, Weaknesses, Opportunities, Threats
References
Aryandi, J., (2020). Pengaruh Kualitas Pelayanan Dan Lokasi Terhadap Keputusan Pembelian Konsumen Pada Cafe Wareg Bengkulu. Jurnal Manajemen Modal Insani Dan Bisnis (Jmmib), 1(1), 117-127.
Asrori, M. (2013). Pengertian, Tujuan dan Ruang Lingkup Strategi pembelajaran. Madrasah. Vol 5 No 2.
Assauri, S. (2013). Strategic Management: Sustainable Competitive Advantage. Jakarta: Rajawali Pers.
Fanani, A. (2014). Mengurai kerancuan istilah Strategi dan Metode Pembelajaran. Dalam Nadwa.
Finthariasari, M. (2020). Pengaruh Kualitas Produk, Display Layout Dan Variasi Produk Terhadap Kepuasan Konsumen. Ekombis Review: Jurnal Ilmiah Ekonomi Dan Bisnis, 8(2). doi:https://doi.org/10.37676/ekombis.v8i2
Firmansyah, M. (2013). Analisa Strategi Pemasaran Kopi Arabika Bergendaal Koffie di Kabupaten Bener Meriah. Agrisep, Vol. 14, No.1.
Heryana, E. (2012). Fenomena Coffee Shop sebagai gjala gaya hidup baru dalam kaum muda. thaqafiyyat, Vol. 13 No.1.
Indriyo, G. (2014). Manajemen Pemasaran. Yogayakarta : BPFE UGM.
Khanza, M., Toyib, R. T., & Onsardi, O. (2021). Implmentasi Algoritma Apriori Untuk Meningkatkan Penjualan Handphone di Toko Mardha Cell. JSAI (Journal Scientific and Applied Informatics), 4(2), 221-235.
Linda, D. A. (2015). Penerapan Personal Selling Pada Strategi Pemasaran Produk Indihome di PT. Telkom Bantul. Skripsi Universitas Negeri Yogyakarta, 9.
Munandar, J. A., (2021). Faktor-Faktor Yang Mempengaruhi Minat Nasabah Menabung Di Bank Sumsel Babel Kcp Tanjung Sakti. (Jems) Jurnal Entrepreneur Dan Manajemen Sains, 2(1), 43-52.
Onsardi, O., Wulandari, K., Finthariasari, M., & Yulinda, A. T. (2021). Impact Of Service Marketing On Student Decisions. JBMP (Jurnal Bisnis, Manajemen dan Perbankan), 7(2), 234-254.
Rahayu, S. (2017). Pengaruh Promosi Jabatan Terhadap Kinerja Karyawan pada PT. Garuda Metalindo. Jurnal KREATIF : Pemasaran Sumber Daya Manusia dan Keuangan, 5(1), 59-75.
Ridha , N. (2017). Proses Penelitian, Masalah, Variabel dan Paradigma Penelitian. Jurnal Hikmah, 14, (1), 62-70.
Sapitri, L., (2021). The Effect of Brand Image and Product Quality toward Wardah Cosmetics Consumers' Loyalty as A Study on Students Management Study Program, Faculty of Econom ics and Business, Muhammadiyah University of Bengkulu. Jurnal Ekonomi, Manajemen, Bisnis dan Akuntansi Review, 1(2), 139-146.
Sonatasia, D., Onsardi, O., & Arini, E. (2020). Strategi Meningkatkan Loyalitas Konsumen Makanan Khas Kota Curup Kabupaten Rejang Lebong. (Jmmib) Jurnal Manajemen Modal Insani Dan Bisnis, 1(1).
Sumarni, M., & John, S. (2010). Pengantar Bisnis (Dasar-dasar Ekonomi Perusahaan). Liberty Yogyakarta, Edisi ke-5.
Swastha , B., & Handoko, H. T. (2012). Manajemen Pemasaran Analisis Perilaku Konsumen.Yogyakarta: BPFE.
Swastha, B., & Irawan. (2012). Manajemen Pemasaran Modern. Yogyakarta:Liberty.
Toyib, R., Onsardi, O., & Muntahanah, M. (2020). Promosi Produk Pertanian Dan Kerajinan Menggunakan Website Serta Pembukuan Sederhana di Desa Sido Dadi Kecamatan Arma Jaya Kabupaten Bengkulu Utara. Jurnal Pengabdian Masyarakat Bumi Raflesia, 3(1).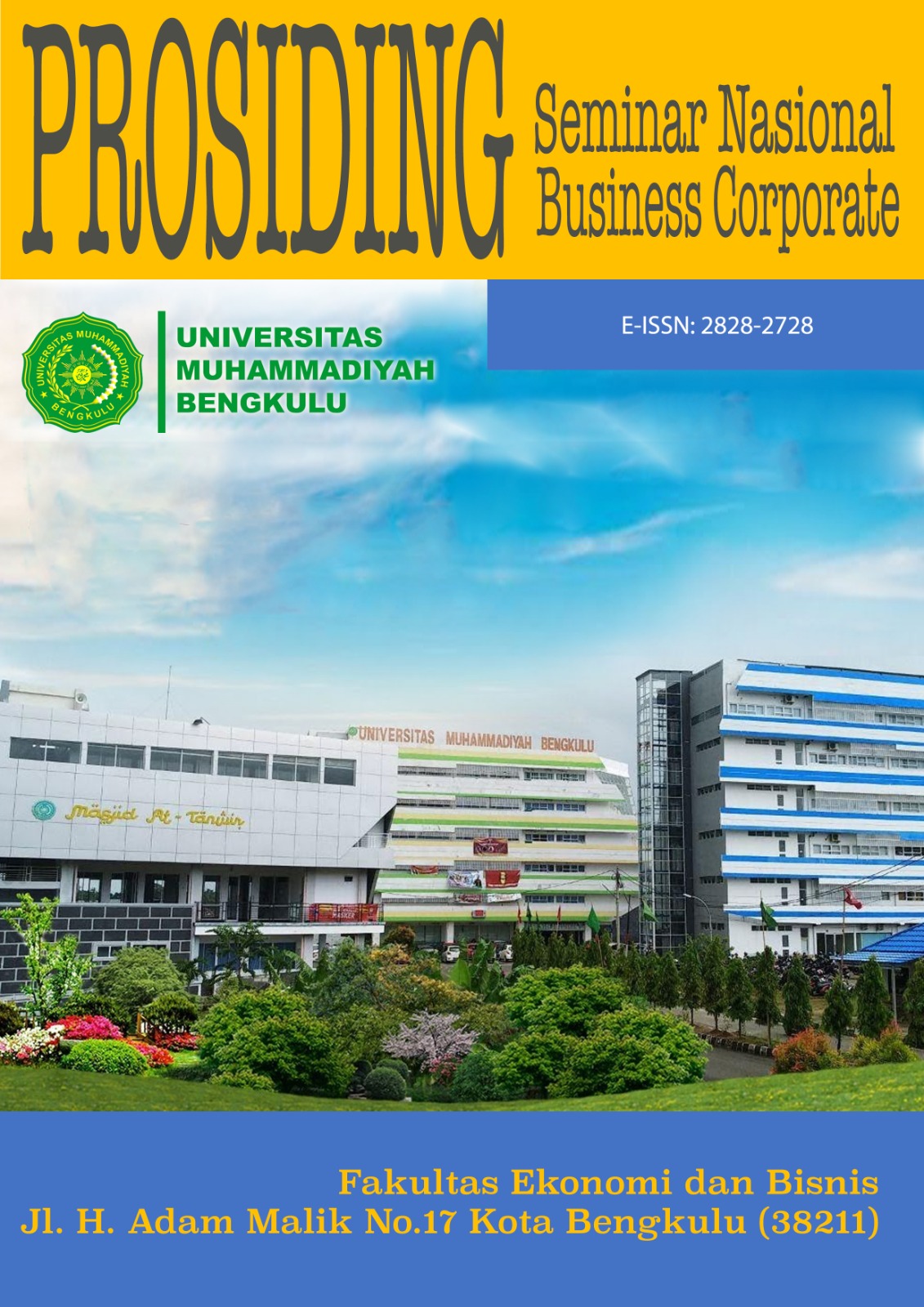 Downloads
Abstract viewed = 447 times