PENGARUH VARIASI PRODUK KUE DAN KUALITAS PELAYANAN TERHADAP MINAT BELI PADA TOKO TATA BAKERY CABANG LINGKAR BARAT KOTA BENGKULU
Abstract
This study aimed to find out the effect of cake product variations and service quality on buying interest at the Tata Bakery Shop,Lingkar Barat Branch,Bengkulu City.This Study applied the type of quantiative descriptive research.The object of this study was the consumer at Tata Bakery wich is located on the lingkar barat,bengkulu city.the sampling method employed a non-probability technique,namely accidental sampling.The number ofrespondents in this study were 130 people.This study used a collection method in the form of a questionnaire.To analyze the data,this research uses multiple linear regression analysis test,and hypothesis testing,namely t-test and f-test.the results of the study conclude that the variabel cake product variations had a positive effect on buying interest,service quality contributed to a positive effect on buying interest,and cake product variations,and service quality together had a positive and significant effect on buying interest.
Keywords: Cake Product Variation, Service Quality,Buying Interest
References
Aptaguna, A., & Pitaloka, E. (2016). Pengaruh Kualitas Layanan Dan Harga Terhadap Minat Beli Jasa Go-Jek. Widyakala: Journal Of Pembangunan Jaya University, 3, 49-56.
Arianto, N., & Difa, S. A. (2020). Pengaruh Kualitas Pelayanan Dan Kualitas Produk Terhadap Minat Beli Konsumen Pada PT Nirwana Gemilang Property. Jurnal Disrupsi Bisnis, 3(2), 242-253.
Aryandi, J. (2020). Pengaruh Kualitas Pelayanan Dan Lokasi Terhadap Keputusan Pembelian Konsumen Pada Cafe Wareg Bengkulu. Jurnal Manajemen Modal Insani Dan Bisnis (Jmmib), 1(1), 117-127.
Ekowati, S., Finthariasari, M., & Aslim, A. (2020). Pengaruh Harga Dan Promosi Terhadap Keputusan Pembelian Produk Pada Eleven Cafe Bengkulu. Jurnal Ilmiah Akuntansi, Manajemen Dan Ekonomi Islam (Jam-Ekis), 3(1).
Fandy Tjiptono. (2005) Startegi pemasaran.Edisi 3.Yogyakarta:Penerbit Andi.
Faradisa, Isti., H, Budi Leonardo., Minarsih, M. M. (2016). Analisis Pengaruh Variasi Produk, Fasilitas, Dan Kualitas Pelayanan Terhadap Minat Beli Ulang Konsumen Pada Indonesia Coffeeshop Semarang ( ICOS CAFE). Journal of Management, 2(2).
Hair JF, Black W, Babin B, Anderson R. 2010. Multivariate Data Analysis. United States of America (USA): Prentice Hall.
Imanullah, M., Toyib, R., Hidayat, M. T., Wahyudi, I., Abimanyu, A., & Susanto, A. (2021). Pengenalan Website Sekolah Dasar Muhammmadiyah 1 Unggulan Dalam Rangka Meningkatkan Mutu Pembelajaran Dan Promosi Sekolah. Jurnal Pengabdian Masyarakat Bumi Raflesia, 4(1), 483-492.
Khanza, M., Toyib, R. T. (2021). Implmentasi Algoritma Apriori Untuk Meningkatkan Penjualan Handphone di Toko Mardha Cell. JSAI (Journal Scientific and Applied Informatics), 4(2), 221-235.
Lestari, B., & Novitaningtyas, I. (2021). Pengaruh Variasi Produk dan Kualitas Pelayanan terhadap Minat Beli Ulang Konsumen pada Coffeeville-Oishi Pan Magelang. Jurnal Nasional Manajemen Pemasaran & SDM, 2(3), 150-159.
Lovelock, Christopher H. dan Wright, Lauren K.. 2002. " Principles of Service Marketing and Management". Prentice Hall Inc., Upper Saddle River, New Jersey
Munandar, J. A. (2021). Faktor-Faktor Yang Mempengaruhi Minat Nasabah Menabung Di Bank Sumsel Babel Kcp Tanjung Sakti. (Jems) Jurnal Entrepreneur Dan Manajemen Sains, 2(1), 43-52.
Onsardi, O., Wulandari, K., Finthariasari, M., & Yulinda, A. T. (2021). Impact Of Service Marketing On Student Decisions. JBMP (Jurnal Bisnis, Manajemen dan Perbankan), 7(2), 234-254.
Philip Kotler, "Manajemen Pemasaran" Edisi 13 Jakarta; Erlangga 2009
Pratiwi, P. (2012). Pengertian Bakery. Penanganan Bahan Baku Pastry Bakery.
Sapitri, L., & Onsardi, O. (2021). The Effect of Brand Image and Product Quality toward Wardah Cosmetics Consumers' Loyalty as A Study on Students Management Study Program, Faculty of Econom ics and Business, Muhammadiyah University of Bengkulu. Jurnal Ekonomi, Manajemen, Bisnis dan Akuntansi Review, 1(2), 139-146.
Sonatasia, D., Onsardi, O., & Arini, E. (2020). Strategi Meningkatkan Loyalitas Konsumen Makanan Khas Kota Curup Kabupaten Rejang Lebong. (Jmmib) Jurnal Manajemen Modal Insani Dan Bisnis, 1(1).
Spark, Richard E. And D, Legault. 2005. A Definition of Quality for Total Customer.
Sugiyono. 2014. Statistika Penelitian Bisnis. Bandung. Alfabeta.
Taan, H., & Machmud, R. (2020). The Improvement Of Purchase Decisions Of Putra Kusuma Pia Cake Through Product Quality, Product Variations, And Packaging. PalArch's Journal of Archaeology of Egypt/Egyptology, 17(9), 504-516.
Tjiptono, Fandy. 2012. Service Management (mewujudkan pelayanan prima). Yogyakarta: CV Andi Utama. Surabaya.
Toyib, R., & Muntahanah, M. (2020). Promosi Produk Pertanian Dan Kerajinan Menggunakan Website Serta Pembukuan Sederhana di Desa Sido Dadi Kecamatan Arma Jaya Kabupaten Bengkulu Utara. Jurnal Pengabdian Masyarakat Bumi Raflesia, 3(1).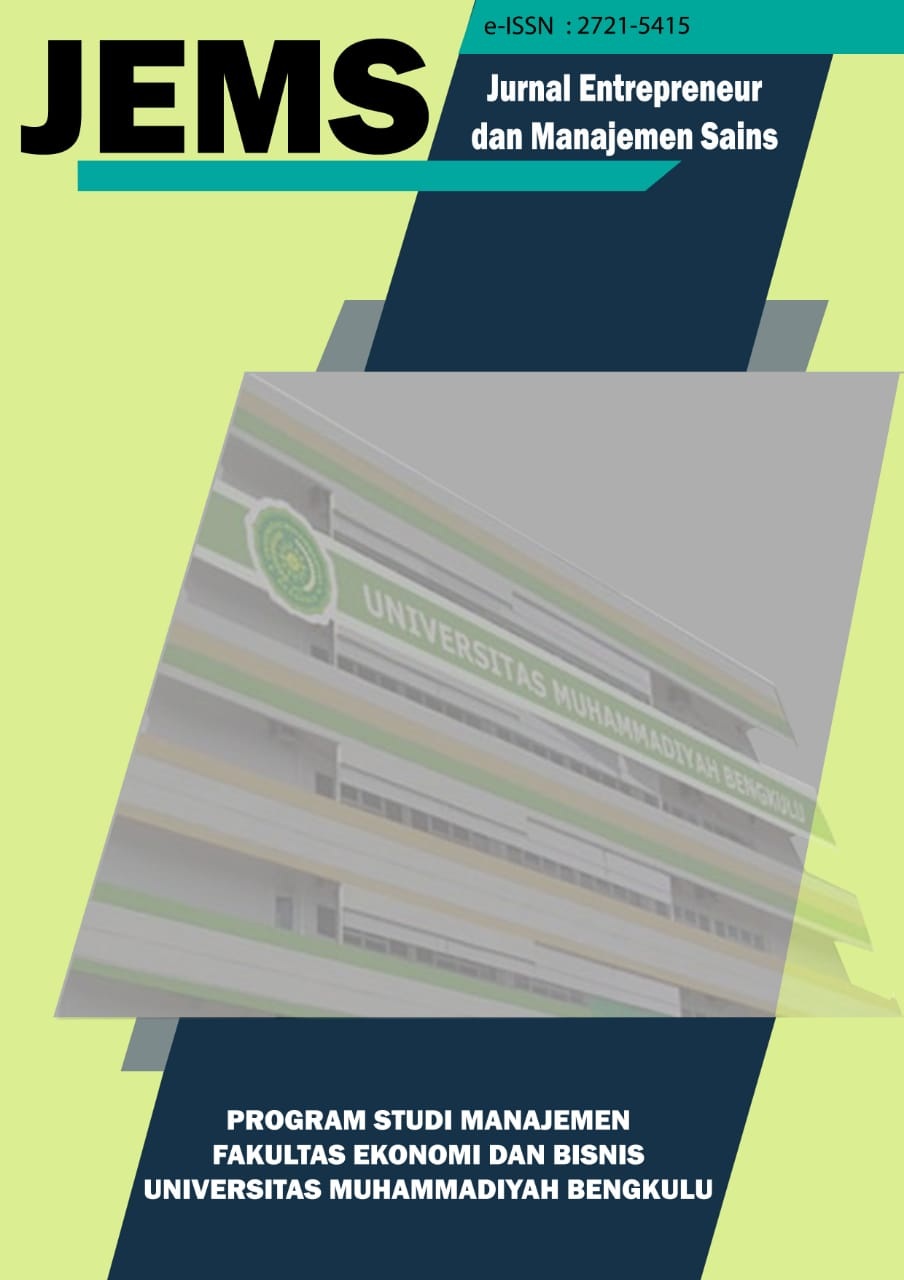 Downloads
License
This work is licensed under a Creative Commons Attribution-NonCommercial-NoDerivatives 4.0 International License.

Abstract viewed = 290 times