Jurnal Universitas Muhammadiyah Bengkulu (Jurnal UMB) adalah sistem manajemen terpadu jurnal UMB yang memungkinkan editor mengelola dan mengatur jurnal mereka agar dapat bekerja lebih efisien dan efektif, serta adanya review setiap tulisan jurnal agar menghasilkan jurnal yang berkualitas, dan terbit secara berkala.
OAI address: http://journal.umb.ac.id/index.php/index/oai
Jurnal UMB Mengacu Pada Indeksing Jurnal Sebagai Berikut:
Digital Object Identifier (DOI) registered with CrossRef. DOI prefix 10.36085
Directory of Open Access Journals (DOAJ)
Portal Garuda Dikti
Indonesian Publication Index (IPI)
Science and Technology Index (SINTA) Dikti
Daftar Lengkap Pengideksan Jurnal Dapat Dilihat Pada Website Jurnal Masing-masing.
A B C D E F G H I J K L M N O P Q R S T U V W X Y Z All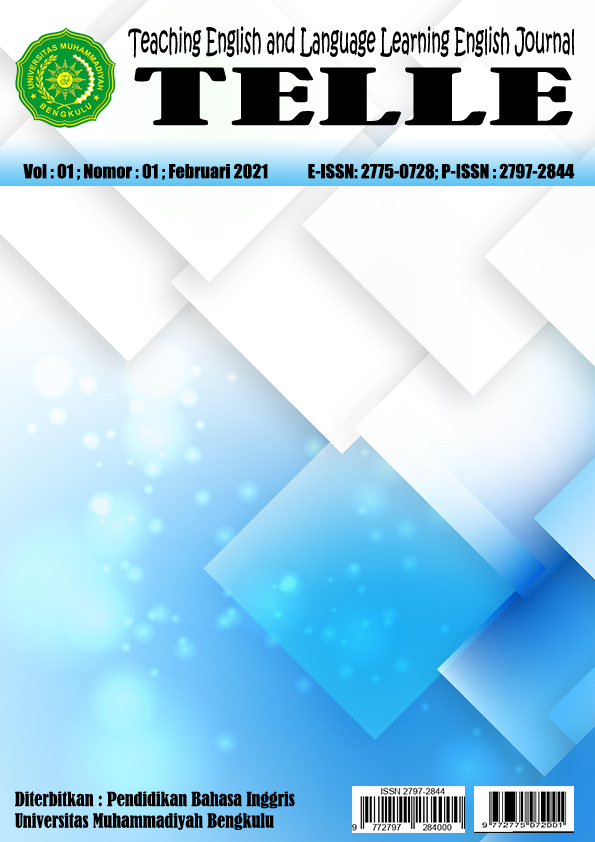 Teaching English and Language Learning English Journal (TELLE)
Teaching English and Language Learning English Journal (TELLE) is open access  Journal which  published three times in a year in February, July and December. The aim is to publish research articles for educators, researchers, professional to share their idea on all topics related to English language teaching and learning English and the everyday experience of language in education. We accept mainly research-based articles related to English Education and Teaching, English literature in ELT, and linguistics. This journal is published by English Education Program of Faculty of Teacher Training Muhammadiyah University of Bengkulu.   
The manuscript must be original research, written in English, and not simultaneously submitted to another journal or conference. All submitted manuscripts will be initially reviewed by editors and are then evaluated by a minimum of two reviewers through the double-blind review process. This is to ensure the quality of the published manuscripts in the journal
View Journal | Current Issue | Register
Kependidikan
Jurnal FKIP Universitas Muhammadiyah Bengkulu
View Journal | Current Issue | Register
26 - 27 of 27 Items